The Lymph nodes otherwise known as glands, extract toxins and bacteria from the body.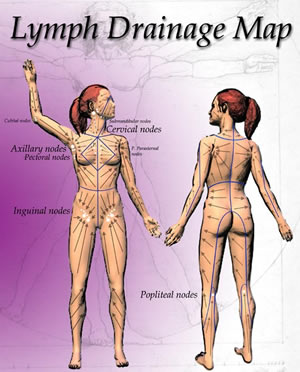 Lymphocyte cells produce the body's antibodies, it is therefore important that your Lymphatic System is working at its best at all times.
Churning up of all the debris in the Lymphatic System naturally occurs when you receive a massage. This facilities your body's ability to get rid of those toxins.
But a Lymphatic Drainage massage goes one deeper.
It can help disperse the build up of fluid on your knees and ankles that cause them to swell up.
It can help shift the build up of fatty cells in the upper thigh and also help break down cellulite.
I USE THE BEST QUALITY NATURAL OILS IN ALL MY TREATMENTS AND SOURCE ORGANIC WHERE POSSIBLE
A free 10 minute consultation is included at your first appointment to establish suitability for the treatment. Permission from your G.P. may be required to carry out treatments , if certain health conditions apply.
| | |
| --- | --- |
| | |
| Lymphatic Drainage – Arms and Legs | £25 |