Chair Massage at Work
With Work Related Stress at an all time high, why not please your Human Resources department by introducing a Corporate Massage Programme into your organisation?
Reduce amount of time employees have off sick.
Increase employee morale.
Increase productivity.
Reduce anxiety, giving a feeling of well being.
Treatments can be fitted into the employees lunch hour or tea break.
Treatments are carried out fully clothed on an ergonomically designed massage chair. The chairs are portable and take up a minimal amount of space.
Create your own reward scheme for your employees or customers with a tailored massage programme.
A 15 to 20 minute massage reduces: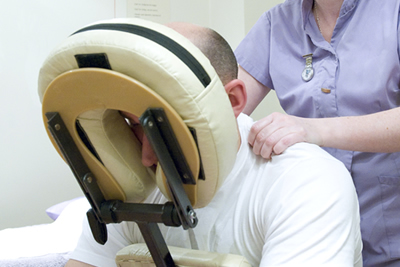 Stress.
Blood Pressure.
Tension in the neck and shoulders.
Can help relieve headaches and eye strain.
Employee or customer is left feeling deeply relaxed, refreshed and ready for work.
We are also available for:
Corporate events.
Trade Shows.
Product launches
Pamper Parties
Conferences
For more details, including competitive daily rates, or to make a booking telephone: Sally on 07773 779164 or use my Contact Page