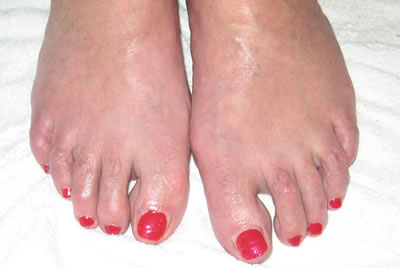 It is important to keep your feet looking beautiful.
Our feet do all the walking, and we should look after them better, so why not try a pedicure. Have your feet put into a bubbly foot spa with a moistening, cleaning and relaxing foot soak. Then have the hard skin removed from the soles of your feet.
Toe nails are then filed and shaped; nails are buffed to encourage healthy growth and improved circulation. You can then choose a nail polish, great for sparkly sandals for that important Christmas party or wedding.
MINI PEDICURE:
File and polish
£9.50
CLASSIC PEDICURE:
Foot soak, nail tidy, cuticle work, hard skin removal, foot & leg massage and polish
£22
LUXURY DELUXE PEDICURE:
as with the Classic but with foot scrub & foot mask
£25